Nostradamus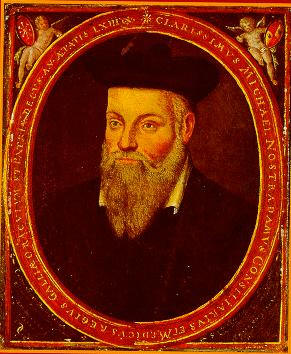 Nostradamus, Michel de Nostre-Dame (1503-66), fransk astrolog som skrev fyrradiga profetior på rim och utgav dem som Centuries (1555-68). Profetiorna är mycket dunkla och har lockat åtskilliga uttolkare. Hans anhängare är ofta oense om vilka senare historiska händelser som fyrradingarna syftar på. Till hans nutida framgång har säkert bidragit att många moderna översättningar är tillrättalagda både språkligt och dispositionsmässigt. Han har t.ex. tolkats synnerligen fritt till svenska av Åke Ohlmarks.
Nostradamus nådde popularitet tack vare förfalskade profetior
Efter terrorattackerna den 11 september 2001 steg den påstådda profetens popularitet kraftigt i USA, då det spreds förfalskade profetior om dåden tillskriva honom.
Vidare läsning:
J. Randi, The Mask of Nostradamus, New York 1990.
B. af Klintberg, Förord i Nostradamus profetior, Stockholm 2001.